Sandy Springs is popular with residents and visitors alike due to an abundance of local eateries, access to premier shopping venues and family-friendly activities. Its many outdoor recreation spaces make it the perfect destination for family fun. And, all that southern charm isn't lost on the movie industry – Sandy Springs is a popular film production destination.
Premiere Parks & Green Space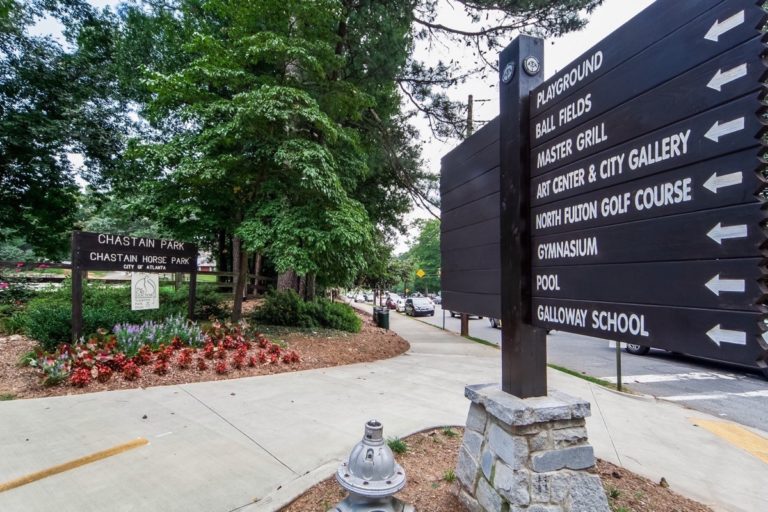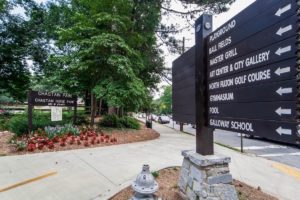 Sandy Springs has over 950 acres of park and nature areas with one of the most popular being the Morgan Falls Overlook Park. Built in 2010, Morgan Falls Overlook Park was the first new park built by the city after its incorporation. It features several picnic areas, an expansive playground, walking trails, a boat dock and gorgeous views of the lake.
Chastain Park is a 260-acre park nestled in south Sandy Springs and known for its outdoor amphitheater. In addition to hosting a popular summer concert series, Chastain offers state-of-the-art recreational facilities like a walking trail, horse park, swimming pool, golf course, baseball complex and tennis center, in addition to a traditional park and playground areas.
The Abernathy Greenway Park was recently named by Atlanta Magazine as an attraction on the 'Best of Atlanta 2014' list. The playable art park is a playground for kids of all ages – one filled with real art to play on, play with, or inspire imagination. The art was curated from more than 100 submissions from artists all over the world.
Take the family out for an educational outdoor experience with a trip to the Big Tree Forest Preserve. The preserve was once a threatened urban forest. Now 20 acres is owned by the city, with the remaining 10 acres owned by the state of Georgia. The area features beautiful trails and scenic views, and a sanctuary for plant and wildlife. Visitors are encouraged to enjoy the peaceful habitat as they walk the trails designed to protect the surrounding natural resources.
Hop in a kayak or canoe and spend the day paddling the legendary Chattahoochee River, or take a hike on the trails of the Chattahoochee River National Recreation Area. The river and recreational area bring families from all over the world to enjoy All About: Sandy Springs 12 the outdoors. Island Ford Park at Chattahoochee River is a hiking trail providing amazing views of the river and a chance to explore the park's forest and caves. It's a kid-friendly and beginner-friendly two-mile trail that everyone can enjoy. You can also get an up-close look at the wildlife as this trail has more deer, turtles and geese than any other area in the Chattahoochee River Recreational Area.
The City Springs District is Sandy Spring's newest mixed-use development featuring a performing arts center, green space, retail and residential area. You will be able to plan an evening filled with shopping, delicious foods, and entertainment. The development contains more 20,000 square feet of space dedicated to shops and restaurants. The City Springs Performing Arts Center will bring Broadway-like entertainment with shows like Hairspray and Elf the Musical. And the City Green features picnic space and interactive water features for kids to play.
Diverse Artists on Display
Sandy Springs showcases local talent with several art galleries that show off local artistry that you can admire and take home. One of the oldest arts center in Fulton County, the Abernathy Arts Center, is an educational center that hosts monthly exhibits to display the work of its students and faculty. It also offers a variety of classes, summer camps and an annual artists market. The center's events calendar is always filled with something new and exciting for art lovers of all ages to enjoy.
The Chai Gallery of Fine Arts specializes in unique art ranging from mixed media to lithographs. The gallery began after founder Mark Jaffe and his wife started purchasing art from the cruises they took. The art they purchased began as a way to preserve vacation memories, but Jaffe soon discovered an opportunity to buy one of-a-kind work and sell it below retail prices to art lovers. Art can be purchased in the gallery or in the online store offering more than 300 pieces.
Twin Brother African Art & Jewelry is a quaint boutique located in central Sandy Springs that offers a unique shopping experience inspired by the unique culture of the African content. The shop has antique pieces of ceremonial value, including figurines, masks, beaded work, and large sculptures. Its founders, the Biteye brothers, opened the store as a way to help educate and expose others to the colorful culture Africa has to offer.