Dunwoody has a population of about 48,000 people, and is known for it's ethnic and cultural diversity. The median age in the community is 37, with many young couples moving to the area to start and grow families. While Dunwoody is known for it's shopping and dining, the city also has 7 major parks and more than 170 acres of green space. Just 10 miles outside of Atlanta, Dunwoody residents experience the small town lifestyle while still remaining 'inside the Perimeter' and close to Atlanta.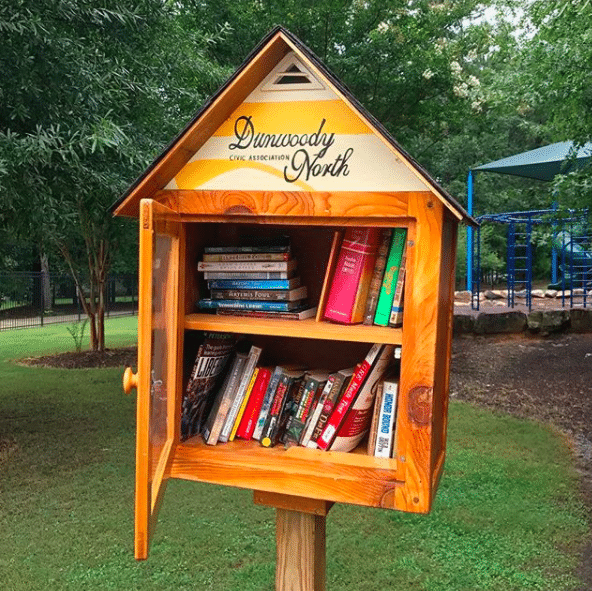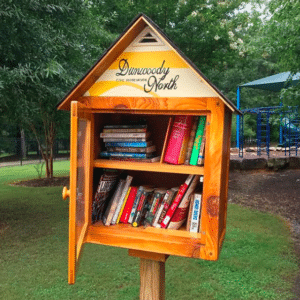 Here are a few of Dunwoody's most desirable areas.
Dunwoody Village
This is the heart of historic Dunwoody, with Colonial Williamsburg architecture and a true sense of place. The community centers around the Dunwoody Village Shopping Center, which was built in the 1970s and gave the district its name. The shopping center set the tone for the unique architectural identity of the area, and all other construction since then has followed suit. Dunwoody Village is home to the iconic Dunwoody Farmhouse. Originally built in 1906, the restored farmhouse is home to many community events and a landmark in the area.
Perimeter Center
This community formed around the Perimeter Mall when it was built in 1971. The mall was built at the intersection of two major highways, GA 400 and I-285, and the surrounding neighborhood spans the Fulton county line into Sandy Springs. The construction of the mall spurred the development of major office, residential and commercial development in the area, which is also accessible via the Dunwoody Transit Station for the MARTA public transit system. Perimeter Center is one of metro Atlanta's largest job centers, employing hundreds of thousands of people. State Farm recently built a regional headquarters here, and more development of condos, shops and restaurants is planned to encourage the 'live, work, play' lifestyle in the Perimeter area.
Georgetown
The Georgetown area developed in the early 1960s and is a walkable area with lots of 'live, work, play' options. Both single-family residential subdivisions and a retail district are located here. Overdevelopment in Georgetown was one of the main reasons for the push to incorporate the city of Dunwoody. This area is located near I-285, bordering the city of Chamblee.
The Branches
This popular swim and tennis neighborhood is located between Mount Vernon Road and Spalding Drive. Part of the neighborhood is in Dunwoody, and part of it is in Sandy Springs. Residents here can enjoy the Branches club, situated on six wooded acres with creeks. The club includes a clubhouse, two outdoor pavilions, a swimming pool, tennis courts and a playground.
Wyntercreek
The Wyntercreek subdivision boasts Colonial Williamsburg style brick and wood homes, shaded by mature leafy green oaks, magnolias and dogwoods. Just a 10-minute walk from shopping, dining and retail, this 30-year-old neighborhood is a favorite with those looking for close-in living without the hassles of a long commute. Wyntercreek is an active neighborhood with a Swim & Tennis Club, and lots of parties and social gatherings.
Redfield
One of Dunwoody's most desirable neighborhoods, Redfield is a community for all ages. This is a pedestrian friendly area within walking distance to restaurants, grocery stores, banks and other services. The neighborhood also has a Swim & Tennis club.
Winters Chapel
This district is named after Winters Chapel, which has been a fixture in town since the 1870s. Winters Chapel is also the name of the main road through the area, which was an important 19th century route connecting Decatur and Roswell. This district is a prime location for light commercial and retail development. It's also home to two large parks connected by sidewalks. One is a ¾ mile long linear park running along the Twin Lakes water reservoir that is popular with runners. The other, Windwood Hollow Park, offers tennis courts, a children's play area, a picnic pavilion and a walking trail. Winters Chapel is located along Dunwoody's border with the city of Peachtree Corners.
Tilly
The Tilly area is home to Georgia State University's Perimeter College campus, and to Dunwoody's signature Park – Brook Run. Brook Run offers wooded walking trails, a children's ply area, a dog park, a Veterans Memorial, and a community garden.
Dunwoody offers residents big-city convenience and amenities, without the big-city price tag. It's a place of ease and livability, with a strong sense of community and culture. It's no wonder that this area is one of the most coveted in metro Atlanta.
At Karen Cannon, Realtors, we are local real estate experts for Dunwoody, Sandy Springs and North Atlanta. We live, work and play here, and our agents are hand-picked for their connections in the community. Our clients know about homes coming on the market before anyone else. And our highly effective marketing program allows us to shorten the number of days on the market. We've even put homes under contract sight unseen!
If you are thinking about selling your home, or are interested in moving into Dunwoody, Sandy Springs or the surrounding areas, call us at 770-352-9658.